New Posts Mondays!
Did You Know...
...that lip gloss was invented by Max Factor in 1930? He did this so as to make lips glossy and shiny for films. He also invented lipstick and the mascara wand. Thank you Max! - yoyolipgloss.com
Okay so I tried hard to get a larger picture of this but to no avail - sorry. It doesn't really matter though, because even if I didn't have a picture of it I would still hope that you would purchase it! Oh yeah, it's a good review coming your way...
Since it is the season for dry, cracked lips (attractive no?) I have upped my game in the lip moisture and care department. I have stocked up on my
100% All Natural Lip Balm,
and I have been using that to death. Thinking that I look cute with just a well moisturized lip, I was going out to face the world each day. Ha! It's funny what a fresh sheared haircut will do for your self-perspective! I realized that I wasn't
THAT
cute just slapping some lip balm on and calling it a day. So I went on the search for some color for my yapper.
Off to Sephora I go because I had a hankering for some bareMinerals. I have had an admiration of this Co. from afar since forever ago because of its all naturalness (the $60 something sticker shock of their whole kit kept me away) and not until just recently have I justified such a purchase (to the husband ;o). Even having said that, I've started small - with their lip gloss.
I loves it!
It's a hint of color with a splash of pa
ZOW
!! I looked up all of the natural ingredients and only came across one that may irritate (according to the
EWG
) - glyceryl caprylate. This is used as a penetration enhancer. But I haven't felt anything weird so far and I've been using it for about 2 weeks now. Also, for you TRUE animal lovers, and not just domesticated animal lovers, but ALL things animal, the ingredient Carmine is taken from the carminic acid produced by
scale insects
to give it it's color - so that's something to consider. I don't know exactly
how
they extract the acid (don't wanna know) but as long as I'm not doing the extracting myself and it's already done and bottled for me, sorry, I can deal with a few less bugs in this world. Those of you that know me, know I can't stand any kind of creepy crawly. I sound horrible right? Go ahead, send your complaints in, I'll surely change my mind if someone convinces me otherwise, I love to be educated! ;o)
It lasts for a couple of hours before I have to reapply, and I'm still trying to get a longer application down (any tips?) My only complaint is that it was $15.00 for 0.14 fl oz (4.2 ml)! And although it's a pretty nice and thick coating and it lasts a good while, that is a bit steep in my book. I like to physically SEE the makeup before I purchase it to make sure it will match the look I'm going for. Now that I know what colors I like, guess who's off to find the best prices for us all? Here are the most inexpensive places I've found the goods so far...
Amazon.com
........3 New from $16.48 each, after tax and S&H
QVC.com
..............A Duo pack of 2 diff't. colors (they have 3 separate pairs to choose from) for a total of $25.09 when everything is said and done - tax, S&H...they also have a video on there with women of varying shades displaying the colors on themselves.
QVC here I come!
Op! Look at me telling half truths and all lies...here's a much bigger close-up of the lip gloss...it's a very sturdy classy looking plastic (?) container.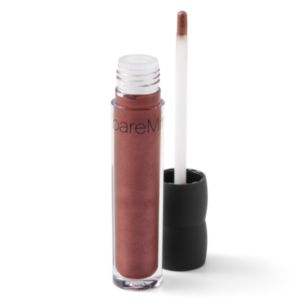 *I know I'm not the only user of this line of cosmetics, let's hear it ladies, what do YOU think of bareMinerals products?
My best,
Muzak! Song of the Week: "Just Kiss Me" Harry Connick, Jr. He's not usually my cup of tea, which aggravates the man of the house who owns all of his cd's, but THIS SONG HERE? Just hit play...and then repeat... ;oP....your roof will be jumping and so will you!